The problem we are solving in HR Recruitment:
Currently, the Return on Hiring (ROH) across industry remains very low, as companies employ manual methods to judge a job candidate's suitability for a job. Companies employ tests/assessments on few subject matters v/s the capabilities of candidates in entirety.
The entire ecosystem, including job portals, resourcing agencies, is not synchronized to the hiring process and follow the lengthy and challenging process of elimination to shortlist job candidates resulting with stressful situation to the professionals seeking job opportunities.
Hiring managers traditionally are flooded with resumes stuffed in Zip files for laborious screening process and followed by shortlisting by a technical panel with manual reading through the resumes given to them by HR team. The efficiency of hiring a job candidate could be very low.
ProSki™ Score is the innovative solution:
ProPMO®  is bringing in a paradigm shift to the way professional will find jobs and manage their career with our patent(pending) solution ProSki™ Score.
About ProSki™
ProSki™ Score is implemented at the core of careerbuddyonline®, a unique concept to benchmark professionals across the industry, With ProSki™ professionals can now have a method to know their,
Readiness to start career across Industry verticals
Standing in the industry among peers from their specific career paths
Fitment to the jobs
Gaps on capabilities to be successful in their career path
ProSki™ is a living score for every professional and evolves considers inputs from diverse sources of assessments, job interviews, mock interviews, academic performances, every turn of events contributing to the skill enhancement and continuous education of professionals.
ProSki™ Score is an unbiased and objective way of benchmarking professionals for career path alignment
ProSki™ would help in determining (Use Cases),
Career path selection
Industry readiness – Bridging the gaps in capabilities
Shortlist for job positions in the industry
Rank the finalists against a job position
As deciding factor for commanding premium on compensation
The exact upskilling needs for professionals as they grow on career paths
For promotions in companies and so on
How ProSki is bringing in paradigm shift to the way right people are matched to right jobs?
With our innovative ProSki™ score, employers can understand the benchmark set for the jobs and also the suitability of the candidates among other job candidates from the industry. ProSki™ would help in determining the risks they are signing up when hiring job candidates in terms of exact skill gaps and fitment of the professionals.
From professional's perspective, ProSki™ score helps in finding appropriate job positions matching to the skill sets, rank against job positions, serves as deciding factor for job levels and remunerations. We strive to reduce uncertainty with respect to employability,  gaining visibility of right job opportunities and facilitate un biased decisions based on factual information available for the job candidates
Applications of ProSki™ Score:
Generic ProSki™ score for Professionals on careerbuddyonline platform : This is generic score for professionals based on all capabilities, academic achievements, career path, career level.
Job ProSki™ Score: This is the benchmark score for every job published on careerbuddyonline platform by employers. This score would hep in matching job candidates very efficiently.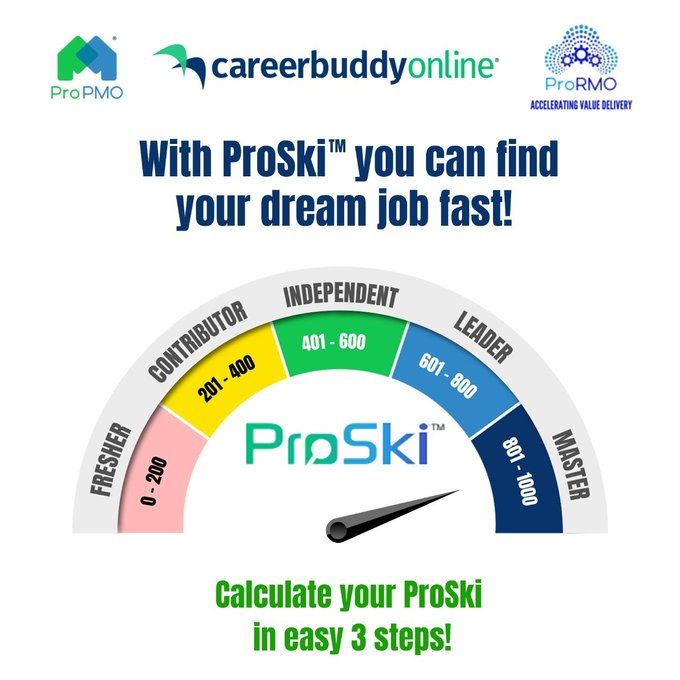 Candidates ProSki™ Score: ProSki score for every job candidate is calculated for every job based on job specific requirements. Candidate ProSki helps in shortlisting right candidates from interviews  to final selection stage.
Industry Readiness: Mock jobs are published on careerbuddyonline platform for diverse industry verticals. Fresh graduates from academics can apply for these mock jobs on www.proskiscore.com and calculate their candidate ProSki™ Score for the mock job and compare against the job ProSki™ Score displayed on their dashboard on careerbuddyonline.
Compensation benchmarking: Every professional is aligned to career paths and career/ job level on careerbuddyonline. ProSki benchmark engine then calculates the positioning of the professionals among other peer in terms of ProSki™ Score and the compensation. ProSki™ benchmarking helps in estimating the potential to increase the compensation with actions taken on upskilling on different job skills identified for the associated career path
Gone are the days professionals struggle to understand their value in the industry. Now they are empowered to negotiate better for their compensation in job interviews and remain stable on their jobs for long term with logical conversations on compensation.
Employees engagement: ProPMO has implemented a platform ProRMO (RMO stands for resource management operation/office). All of the use cases listed above are implemented in this platform for managing employees engagement in organization better. This platform has about 15 different modules leveraging ProSki™ to engage employees from Goal setting to Goals realization. Please visit www.prormo.com to know more about this platform.
ProSki™ Score is expected to greatly help professionals as the adoption increases in the market. ProPMO is continuing to innovate to adopt the ProSki™ Score for hiring and career management of professionals. ProSki would become industry standard when comes to deciding the compensation and hiring decisions across the industry sectors. We expect upskilling industry which incudes counseling, mentoring, coaching and Trainings (workshops / eLearnings) greatly benefit from the ProSki™ Score.